Hey everyone, how are you?
I recently wrote a post about how much I believe in the empowerment of people and how powerful the 7 níveis de delegaçãocreated by Jurgen Appelo and taught in Management 3.0 são poderosos.
The article I wrote Using the 7 Levels of Delegation with Unknown People in a real Practice was about an incredible situation during one of my classes but this time I will bring you an example of how I use the 7 levels of delegation in my day to day at the company I work at, Knowledge21.
But first let me briefly introduce the 7 níveis de delegação:
TellAs a manager, I make the decision
SellAs a manager, I make the decision, but try to persuade others to accept it
ConsultAs a manager, I collect information from the team before making a decision
AgreeAs a manager, I decide together with the team
AdviceMy team makes the decision and then informs me about it
Inquire: My team makes the decision and then informs me about it
DelegateI have no influence and the team makes the decisions on its own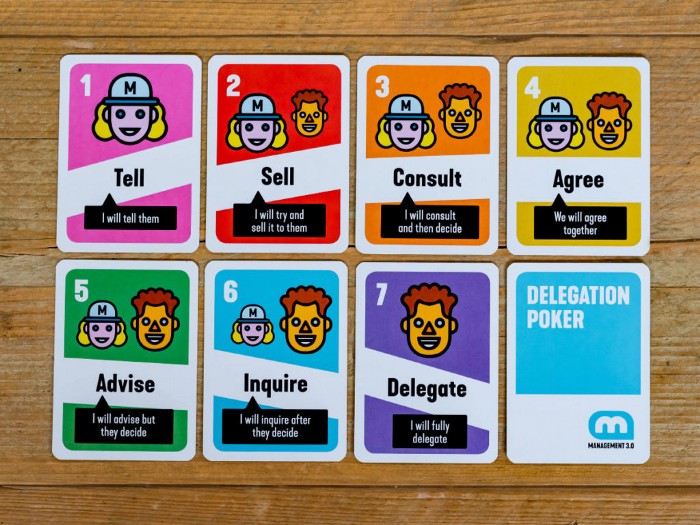 Maravilha, conhecendo os níveis de delegação, como utilizo no meu dia dia? Mais precisamente, como utilizo na minha agenda de trabalho como Agile Expert? Vou te contar 🙂
At Knowledge21 we have a work agenda for all Experts (organized by teams) that is available and accessible to all company employees and that is in the cloud (Google Docs).
This agenda has some captions, restrictions and filling information that guides Agile Experts in filling it out as: Specific Colors for Holidays, Specific Colors for confirmed or unconfirmed work days, etc.
Important pointThe decision to delegate the agenda varies for each Agile Expert according to its restrictions and the level of empowerment it wants to share with the company. In other words, an Expert may not delegate anything on his agenda or he may create different levels of deletion on his own agenda and the collective will understand and calmly accept his decisions.
Given this context, I will present to you what the levels of delegation of my work agenda are:
If the day is blank = D6 (Remember the time zone BR x PT).
MOP (Internal Work) and Travel = D4
Training: Leave 1 day between training sessions (Just a restriction)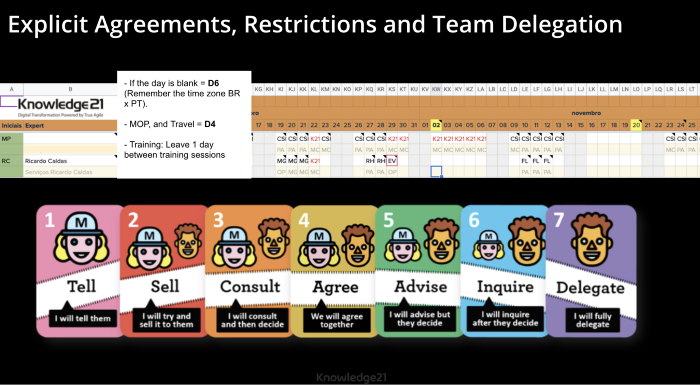 What does that mean?
If any day in my calendar is branco and someone at the company needs me, that person can update my calendar with work and need to let me know that they've updated. And why do I need to be warned? Only because it is important for me to know that I will have a job and to prepare for it. Otherwise, I might not show up if I didn't look at my schedule.
The restrictions that are with Delegação 4, have to do with some decisions that I need to make with the person who needs my work day and normally these decisions are resolved asynchronously and quickly. Ex:
Ex:
If it is a business trip, it is important that I decide together with the applicant because it involves family issues and for me it is important to stop, understand the context, align and decide
MOP: As I do some internal work that is important to me and the company, it is important to validate the ROI (return on investment) of exchanging a MOP for another job.
Realize that these are the restrictions and level of delegation of my agenda but we have other cases of other Agile Experts (without names to not expose them) that I will share with you as:
Agenda change: Delegation 4 — Restrictions: — 1 OS (Out of Service) and HO (Home Office) per week
Maximum 3 days of training per week. Blank delegation 5. In red Delegation 4.
Blank delegation 6. In red Delegation 4 Note: — The black OS (Out of Service) usually indicates that I am in BH (other city). You can call me, I will evaluate if I have availability.
With this form of explicit agreements, restrictions and delegation it is much easier to organize ourselves as teams and corporately because when I need someone's help to serve a customer I don't have to keep asking people in the company if they have availability or not. I simply open the Agile Experts agenda, validating the restrictions and levels of delegation that I have to point a job on that person's agenda.
This model helps a lot in decision making but also in adapting and we will respond quickly to demands when they appear. Not to mention that it improves communication between people and increases the level of maturity and responsibility between individuals.
Before concluding, it is worth mentioning a phrase that we always pass on to our students, customers and employees: "Delegation is not a binary thing. There are more options than being a dictator or an anarchist. The art of management is in finding the right balance. " By Management 3.0
Some reflections I leave to you:
"You cannot delegate what has no autonomy". Unknown Author (I'm trying to figure out)
" Delegação é o primeiro passo para Confiança", Toledo, Rodrigo de – Knowledge 21
I'm happy to be able to share this case with you and if you want to talk more about it, I'm available.
See you soon ;-)
Ricardo Caldas